by Katie Collett
Over the past week, we sent out a survey to all of the 7th grade homerooms. We asked that the 7th graders fill it out to tell us about their experience in 7th grade as compared to 6th grade
The first question was, "How has the amount of homework changed from 6th to 7th grade?" 74% of kids said that there is more homework in 7th grade, around 15% of kids said that the homework amount is the same, and 10% said that there is less homework. Leveling up in school means more and harder work so the responses to this questions seem reasonable.
The second question was, "What is your favorite class?" The most liked classes to least liked classes in order: social studies, wellness, combined arts, math, science, English, and world language. 32.7% of kids said that they liked social studies the best. Math and combined arts tied for 3rd place and world language and English tied for 7th place.
The third question was, "What do you miss most about 6th grade?" This question was an open response question. Most kids said, "less homework" which is similar to the first question. A lot of kids also said that they miss the teachers. Although in middle school some teachers teach multiple grades, the 6th grade teachers almost always only teach in the 6th grade wing so you don't see them a lot.
The 4th question was, "Are you nervous for 8th grade?" The three options were: "yes," "no," and "I don't know." Their answers were almost exactly even with 39.4% saying no, 32.7% saying yes, and 27.9% saying I don't know. This really surprised me because I was definitely nervous for 8th grade. I was nervous about the workload and getting new teachers.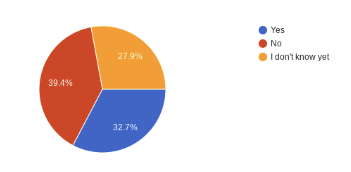 The 5th question was "Do you like the 6th or 7th grade lunch schedule more?" 87.5% of kids said 7th and 12.5% of kids said 6th. 7th graders have lunch is in the middle of the day, so there are three classes before lunch and three classes after. 6th grade only has two classes before lunch, so their lunch is kind of early.
The 6th question was "On a scale of 1-5 (5 being the best and 1 being the worst) how much fun was your field trip to Treetops?" Around 44% of kids said 5 and 44% said 4. I remember treetops being super fun and loving the two days with no classes.
The 7th and final question was "What is the best thing about being a 7th grader?" This was another open response question and the responses were very pretty varied. Some kids said that they like the lunch schedule. A lot of kids said that they liked not being the youngest, and multiple people said that they liked having the library closer to them and not being confined to just the 6th grade area.
In conclusion, most kids seem to enjoy 7th grade a bit better than 6th.